Delivery, Exchange & Return
Ordered on working day and paid before 5 p.m, same day ship!*
We are dedicated to ship the products to our valuable customers by reliable, low-cost and fast delivery service we corporate with. The general deliver time and cost are listed as following. You may choose priority delivery by Postnl (Dutch Post) , DPD or express service by KDZ when you check out. Please bear in mind that in some circumstance, packages might arrive late.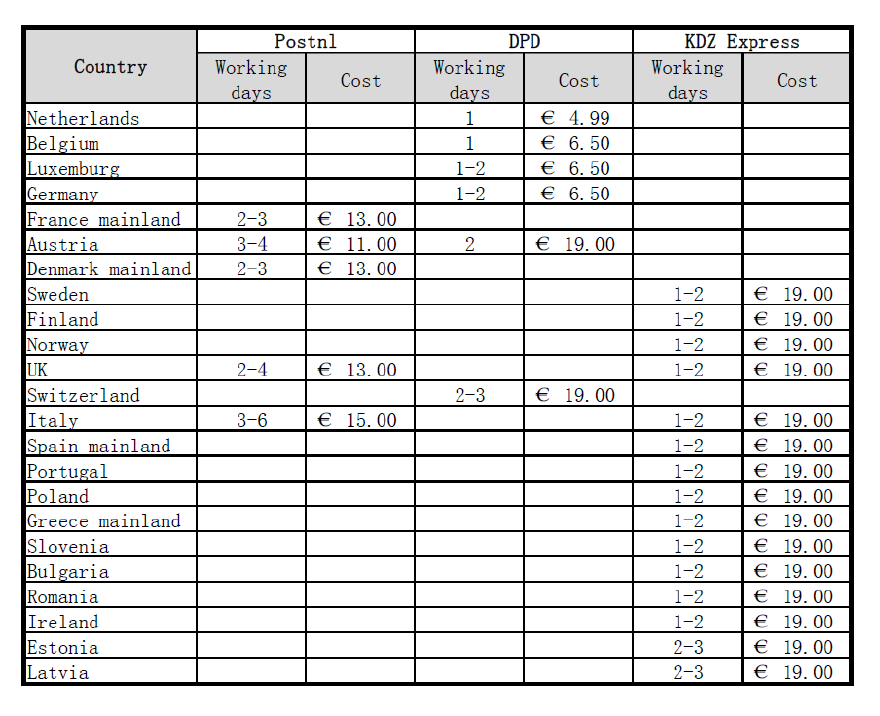 All packages we ship are trackable. After the payment is received you will receive a track & trace code from us via email to check and follow your package. You will receive this after 18:00pm when the packages arrive at logistic depot. You may track your packages via following links:
Postnl: https://jouw.postnl.nl/#!/track-en-trace/zoeken
DPD: https://www.dpd.com/nl_privateklanten#!tracking
KDZ: http://www.kdz.com/nl/track-and-trace/
If you miss the first delivery, we advice you to contact the logistic to arrange a new delivery attampt.
Cash on Delivery package (Rembours/C.O.D./P.O.D.)
Order via our website, by mail or by telephone (on working days from 11 a.m. - 5 p.m.)
You can pay cash at the door when the postman arrives and delivers the package.
Please note! You will receive a phone call or an email in which we ask you to confirm your order. Only then, we will take the order in further treatment. After receipt of the desired order and your contact information (full name, address, number, postcode, living place, email address) you will receive a confirmation email from us and the package will be shipped to you directly. Even with this option the delivery time will last 24-48 hours on working days.
If you decide to not wanting the ordered package any longer, let us know via email or telephone before we bring the package to the post office.
Extra charge for cash on delivery service:
COD-package (P.O.D.) within the Netherlands: 13,45 euro
COD-package (P.O.D.) to Belgium: 14.45 euro
Do you have any questions?
Please do not hesitate to contact us!
Exchange & Return
Unopened packaging in original conditions can be returned/ sent back to us within 14 days. After we receive the returned package in an appropriate manner we will return the money to your bank account (excl. shipping costs, the costs to return your registered* package are on your account).
If you want to exchange the product you can place a note on the ticket or send us an email with your desired product.
*K&C Hair World is not liable for damage or loss due to the consignment of your return, this is your own responsibility. We advice you to return your packages also registered/insured due to this fact.