Micro Loop Ring Extensions 55cm (25 per package)
Product description:
* The Extensions consist of loose unstitched and beautiful human hair.
* Excellent Remy quality!
* Very easy attachment with the help of a plastic ring.
* Ideal for doing it at home!
* With an appropriate hair care, the extensions can be used up to 4 months.
* Available in more than 16 colours, check it out:
Click here for the larger colour ring
Details:
Available models: Straight, Natural Wavy
Available length: 55cm/22inch (lengths chart)
Description: 0.8 grams per piece (55cm)
25 pieces of hair extensions include 25 micro rings per package and can be delivered within 1-2 working days. Delivery costs: 9€.
Read more about the product.
To get honest opinions please read our customer reviews and make up your mind!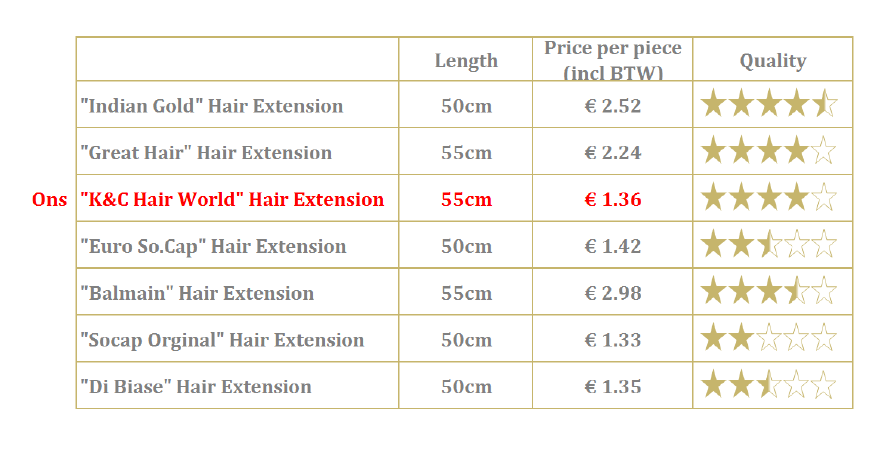 *The result is based on existing measurement data of both private and salon customers of Alleen Haar. this display an objective cost-benefit ratio and is in no way related to subjective data.
Please contact us by calling: +31 (0)70 380 39 32.
Please note! We advise to wash out the extensions onetime before using.
Please note! This product is easier attached than the micro ring extensions. But it remains not as long as the other extensions and is therefore not recommended for re-using. For additional strength use double micro rings or choose the micro ring extensions.
Please note! All of the mentioned lengths in centimeters/inches of the hair are on the basis for the attachment of the curl/stroke.
Please note! Read more about the care of the hair.
Application: